I'm planning on doing a few posts today on getting a new crested gecko!
Seeing as my crested geckos are breeding, lots of family and friends are planning on having one/some of the babies. I think it's important that people know everything about crested geckos before they get them. They aren't exactly your average pet, and vets and pet stores don't tend to specialize in them.
Here's my first of a series of posts on new crested geckos. This post is about everything you will need before you go ahead and buy your crestie.
Vivariums
The most important thing you will need before you get your new gecko is his home! You can find vivariums in reptile stores and most likely any pet store that sells reptiles. Look around in different stores near you before you go ahead and buy one; you may find that some are cheaper than others. You might even want to look online, but I would recommend buying a vivarium first-hand.
Crested geckos require a 'tall' vivarium, and the smallest you should consider getting should measure 12" by 12" by 18" (approx 12 US gallons). This should comfortably home one adult crested gecko, at the most two.
If you're planning on having 2 or 3 crested geckos, you might want to consider getting an 18" by 18" by 24". This is the size vivarium I currently own for Rocco and Savannah, my own crested geckos. It is approximately the size of my bedside table/chest of drawers, although slightly smaller, and they have far much more personal space in this sized enclosure than the 12" by 12" by 18".
Exo Terra is probably your best bet for a vivarium: their enclosures are safe, well-ventilated, beautiful and very trustworthy.
www.exo-terra.com
Exo Terra 'tall' vivariums; left: 12" by 12" by 18", right: 18" by 18" by 24"
Another reliable vivarium source is Komodo. Exo Terra is probably the better option: the vivariums have backings that create a natural environment, they are very well ventilated and are a much more largely used company. I feel that Exo Terra make far more attractive enclosures than Komodo, but others may disagree!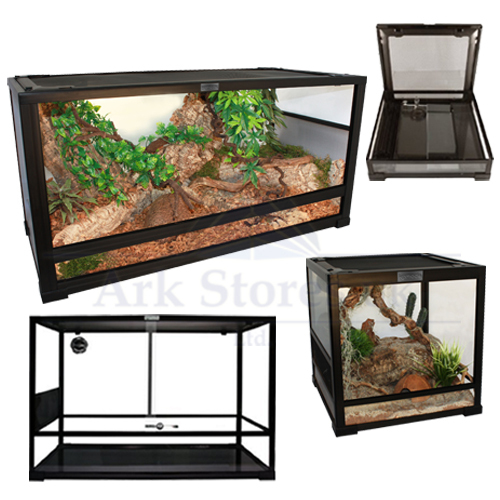 www.exotic-pets.co.uk
The above images are examples of Komodo vivariums you can find (not tall).
If you're considering getting a vivarium, you might want to go look at the different variety yourself and consider which you prefer. Some stores even sell wooden vivariums, although these don't tend to come in the 'tall' option and they are less popular for crested geckos. They tend to suit leopard geckos more. However, you may find that the wooden styled vivarium fits in better with your room.
www.animalinstinct.co.uk
An example of a tall wooden vivarium (less recommended).
I think wooden vivariums are beautiful, I really do, although I feel they are far less practical for cresties. If you are looking for beauty in your vivarium, I recommend you do as I have done and find a beautiful backing, a heat light and some pretty plants or flowers to decorate the inside. The light makes a whole lot of difference to the vivarium's appearance.
Inside Your Vivarium
Inside your vivarium you need to make it as natural as possible for your crestie(s).
Below is a list of everything I have inside my own vivarium:
One large Exo Terra hanging plant (Ficus, silk)
One small Exo Terra hanging plant (Abuliton, silk)
One large Exo Terra jungle vine
Two ground plants (one large-leaved alike scindapsus, one philodendron)
Two forest branches (one small, one large)
One piece of cork bark
One Buddha vivarium background
One medium Exo Terra water dish
Coconut fibre substrate
One Exo Terra dial thermometer
One Exo Terra dial hygrometer
This amount of items isn't necessary, but crested geckos do spend a lot of their time hiding. It is necessary to provide your gecko(s) with the amount of equipment they may need to hide sufficiently.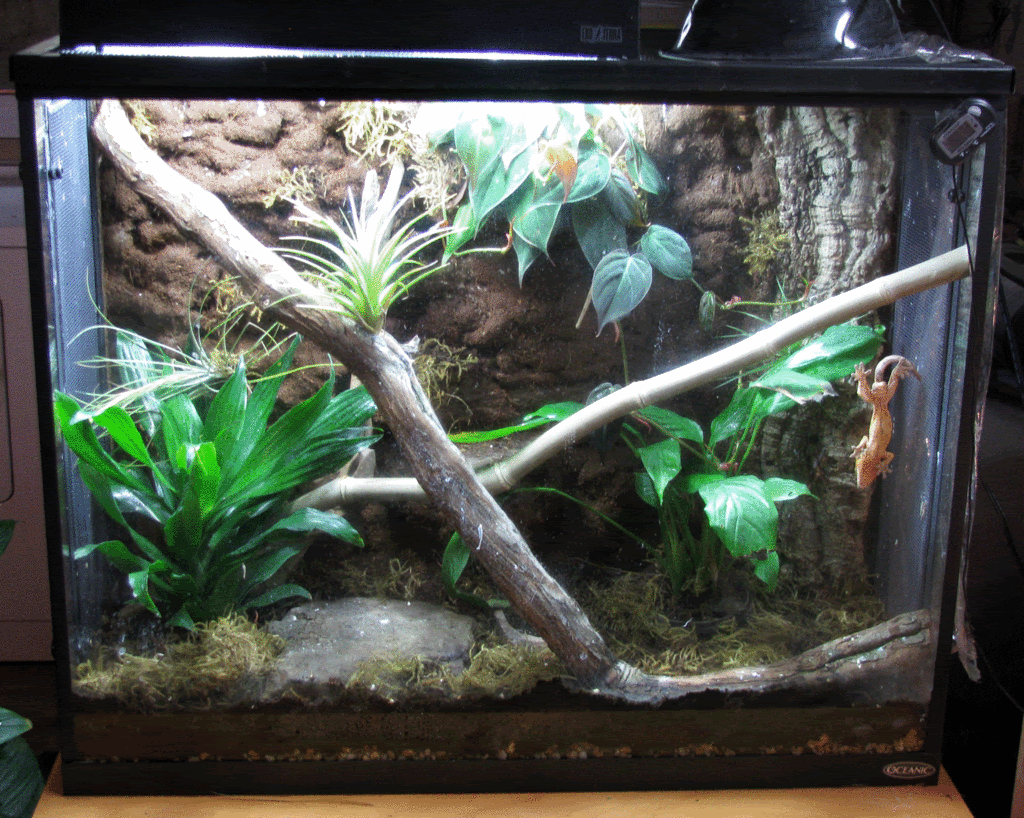 www.vivariumguide.com
The above image is an example of efficient hiding apparatus for your crested gecko.
Something also important for your crested gecko's enclosure is climbing equipment.
Those of you with crested geckos will know they get most of their exercise from climbing. With the help of the lamallae on their feet and tail tip, crested geckos spend most of their time vertically. They get most of their exercise from climbing, excluding when hunting, and even climb to the top of the vivarium so to climb on the wire mesh!
It's not necessary to include
lots
of climbing equipment as crested geckos can climb glass and most other surfaces, but it's probably a good idea to insert some obstacles so your gecko has some interesting routes and gets some decent exercise!
Jungle vines are the best kind of climbing apparatus, as they can be wrapped around other decor and bent, twisted and turned into any shape or route.
www.flickriver.com
Essential Internal Equipment:
Thermometer (dial or digital)
Hygrometer (dial or digital)
Water dish
These are the only 3 essentials for your vivarium. Obviously, it is essential that your crested gecko has climbing and hiding apparatus inside the enclosure, but what you choose is up to you and how much you want to kit it out. The above 3 in my opinion are absolute essentials to ensure your gecko has a healthy living environment.
Other Necessities
There are other necessities that you will require before purchasing your crested gecko.
One of the most important requirements in this category is a form of temperature maintenance. This should be in the form of a heat mat or heat lamp.
Often you won't need to use your heat mat/lamp, and your crested gecko will be fine at room temperature. However, often at night times or in the winter, the general temperature can drop and leave the enclosure at low temperatures. Although it is important the temperature doesn't rise above 80F/26C, it's also important it doesn't drop below 50F/10C. Reptile specialists will inform you on which bulb or mat is suitable for your crested gecko.
www.ebay.co.uk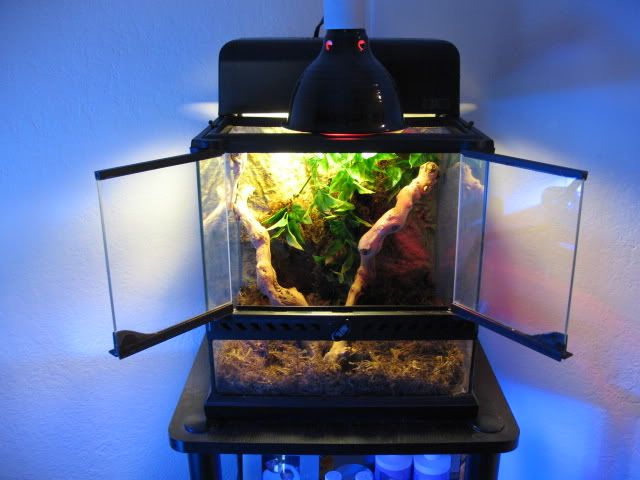 www.thescmas.com
As well as maintaining the temperature in your vivarium, it is just as important to maintain the humidity. This tends to be more difficult, and the natural humidity of your environment and the heat source you are using will affect how often you will need to top up the humidity.
It's easy to maintain once you know how quickly the humidity begins to drop in your environment. You simply need to purchase a 'mister bottle', which is a bottled pump that sprays a fine layer of water into the vivarium. Once you've done this a few times, you will establish how often you need to do so and how much you need to spray. Usually a heavy spray is required of an evening, and a light spray of a morning. It's easy enough once you've got the hang of it.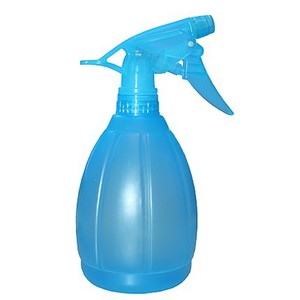 www.ebay.co.uk
Komodo water spray misting bottle!
The last thing you will need as an addition to your purchases is calcium and multivitamins. If you decide to feed your crested gecko on Crested Gecko Diet this is something you won't need to worry about, as all your gecko's requirements are already added to the mix. You will however need to buy these if you're considering feeding your gecko on live food, or fruit for a treat. You can purchase these in all reptile stores and most average pet stores, and more details on how to use these can be found in the link above in the 'Essential Internal Equipment' section.
I hope you enjoyed today's section, and I promise to post tomorrow or Wednesday with the next 'Your New Crested Gecko Segment': Buying Your Gecko.
Thank you for reading and for helping to make my blog a success. It means the world to me.
Regards,
Elly. x